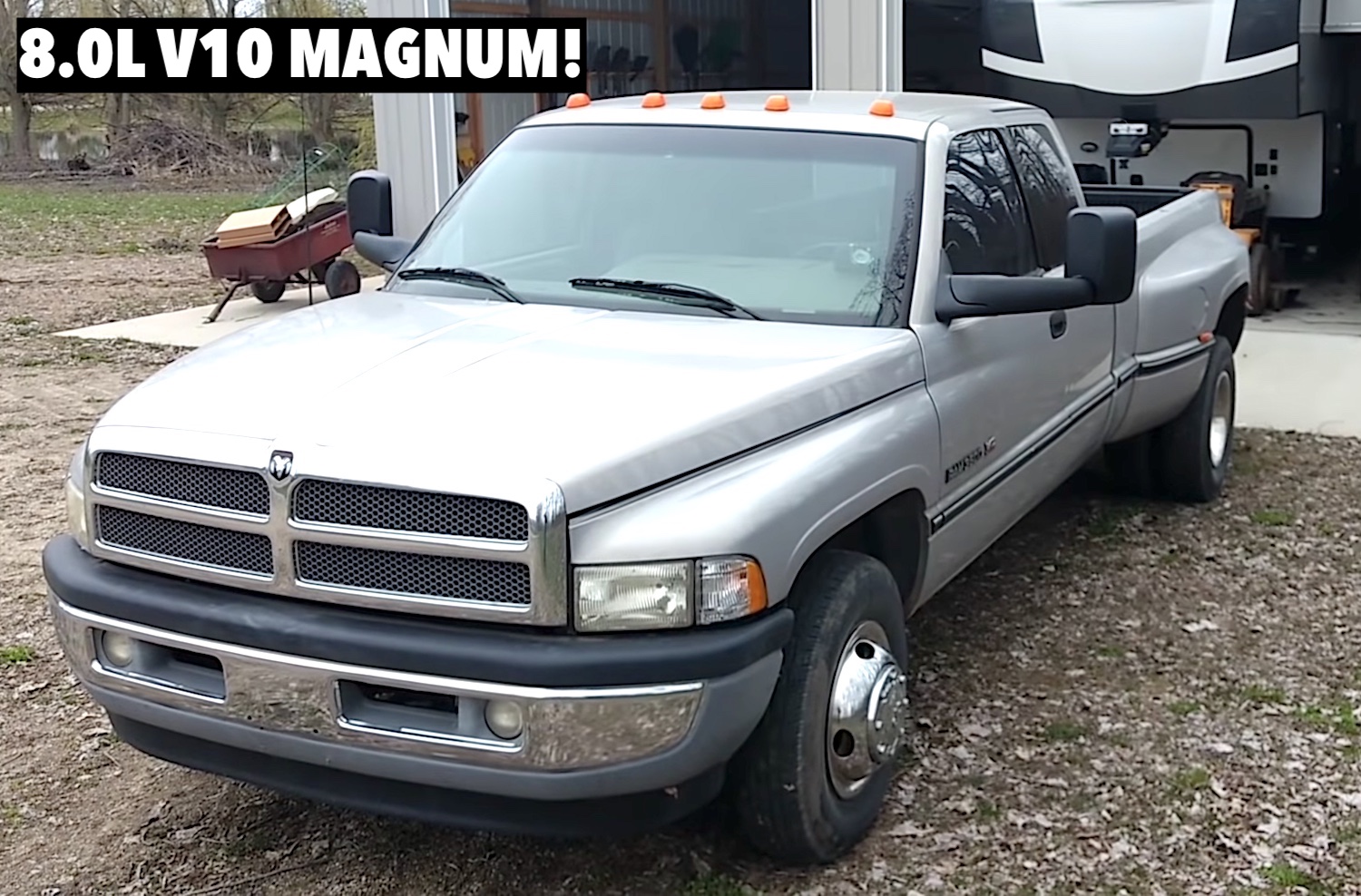 Oh yea – here is a low-mileage 1996 Dodge Ram 3500 HD with a monster of an engine. This dually has a 8.0-liter V10 gas engine under the hood that scared other trucks from 1994 to 2003. On this episode of "Dude, I Love or Hate my Ride" @HomeEdition – we get a special close look at a well taken care of rig that tows a camping trailer for recreation.
Ram heavy duty dually trucks are generally known for their Cummins turbo-diesel engines, but this large displacement gas motor had more torque than the 5.9-liter diesels of the same era. This engine was rated at 300 horsepower @ 4,100 rpm and 450 lb-ft of torque @ 2,400 rpm. This is not a Dodge Viper engine. This is not a Ram SRT10 sport truck. The Viper and later Ram SRT10 V10 engine were higher revving and produced considerably more power and torque.
This heavy duty version of the engine was meant for heavy work. It made plenty of torque at very low engine rpm, and it could move a heavy trailer or a heavy load with confidence.
The truck that Bob is sharing with us here is lives in Michigan. It has virtually no rust because it is not used during winter months, but it does tow a 10,000+ lbs 5th-wheel camping trailer for summer trips. The truck has just over 100,000 miles on the odometer. Bob says that not much has gone wrong with the truck and it is basically all stock with the exception of the failed stereo head unit.
Bob says that the truck pulls the trailer just fine, but the old automatic transmission does not always find the right gear. Can you imagine this old V10 mated to a new 8-speed HD automatic transmission? Also, these older V10 trucks came equipped with a 5-speed manual transmission – which is another great option.
You can watch an entire walk-around of this 1996 Dodge Ram 3500 V10 in the video below.